(Rhino) Brodtman, Carl Joseph and Schinz, Heinrick. Zurich, 1824. $295.00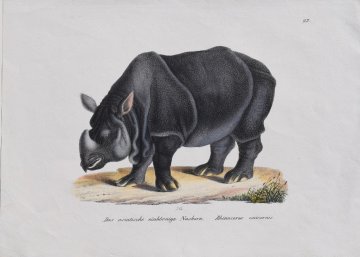 "Der asiatische einhornige Nashorn. Rhinoceros unicornis"
This hand colored lithograph was included as an illustration in a natural history work by Heinrich R Schinz, entitled, Naturgeschichte und Abbildungen der Saugethiere. The volume contained under 100 illustrated plates, most lithographed by the well regarded Swiss German artist Carl Joseph Brodtman (1787-1862). The book was written by Heinrich Rudolf Schinz (1777 - 1861) a physician practicing in Zurich who also taught at the medical institute and was the secretary for the Zurich Zoological Society where presumably he would have encountered some of the animals he described. These are charming representations of exotic, domesticated and feral animals.
Hand colored lithograph.
13.5 x 10 inches sheet.
Excellent condition.