Bonaventura van Overbeke. (Obelisk, Vatican Piazza) Amsterdam, 1708. $295.00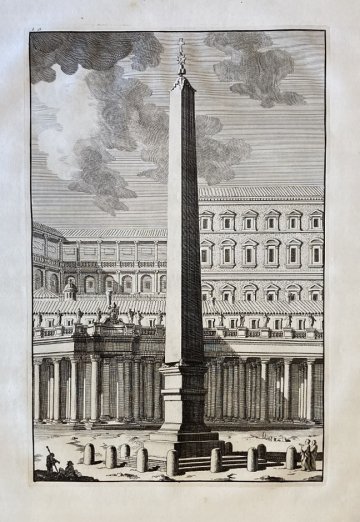 Bonaventura van Overbeke's (Amsterdam 1660–1705) was a Dutch Golden Age draughtsman and engraver. This engraving was included as an illustration in his towering opus of ancient Roman architecture, the result of 20 years of inspired work. During this period, Overbeke visited Rome on three occasions to measure and draw the architectural remnants of the ancient city's most significant classical structures. At his death he was still transforming these sketches into the engravings for a book and composing the Latin text; the work was completed by his nephew Michel under the title: Reliquiae Antiquae Urbis Romae, quarum singulas Innocentio XI. Alexandro VIII. & Innocentio XII... The work was published in Amsterdam by Joannes Crellius in 1708.
A renowned and unsurpassed collection of stunning plate engravings honoring the glory that was Rome.
Copperplate engraving uncolored as issued.
20 ½ x 15 1/8 inches sheet.
Excellent condition,