(Monte Cavallo) Principali Monumento di Roma, 1845. $165.00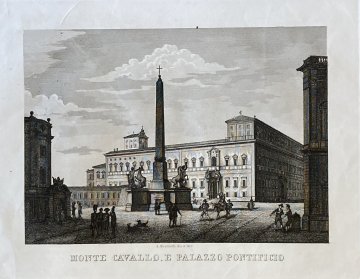 "Piazza di Monte Cavallo"

The "Grand Tour" through the capitals of Europe was something enjoyed primarily by privileged 18th and 19th English men and women. These trips, most often to Italy, focused on visiting the ruins of the ancient world and the architecture of Renaissance and Baroque eras. Albums of topographical paintings, drawing and prints were affordable mementos for the foreign visitor to purchase and take home. This engraving was created by Alessandro Moschetti in 1843 and included in a collection of prints published in 1844-45 titled: Principali Monumento di Roma - Raccolta delle Principali Vedute di Roma Antica e Moderna.

Engraving.
12.5 x 18" sheet. Sharp impression with full margins.
Very good condition.