(Red, green and yellow Parakeet) A Natural History of Birds. London 1734. $495.00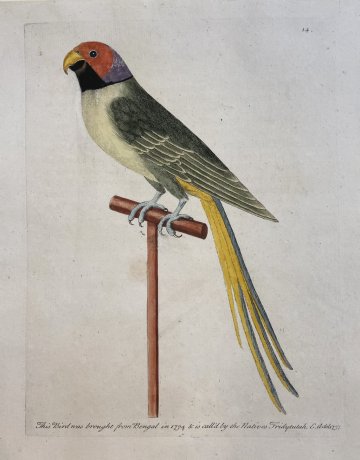 Plate 14 "A Paroqueet from BEngall, This birds was brought from Bengal in 1734 & is call'd by the Natives Fridatutah"

Scarce very early copperplate engraving with full original hand color by Eleazar Albin as an illustration to his: A Natural History of Birds, Illustrated with a hundred and one Copperplates Curiosly Engraven from Life, and printed in London between 1731-40.

Albin was a German who came to England in 1707. He made his living creating watercolors of wealthy collectors cabinets, including Sir Hans Sloane whose collection along with William Hamiltons's were the cornerstones of the British Museum. Many of these collectors then subscribed to his Natural History of Birds. The plates were completed by Eleazar as well as his children, Elizabeth and Fortinalus. This work which was offered by subscription and was only produced in a edition of 89 completed books.
The work described in print and text many of the new species of birds introduced to Europe at the time of great exploration and discovery. Albin further writes in his notes, "As for the paintings, they are all done from the life, with all the Exactness I could either with my own hand, or my daughter's whom I have taught to draw and paint after the life"
The parrots from this scarce work are considered the most desirable. We are pleased to offer them.

Hand colored copperplate engraving on watermarked paper.
11.5 x 9 inches sheet
Excellent condition.