(Woodpecker) Gleanings... London, 1758-64. $375.00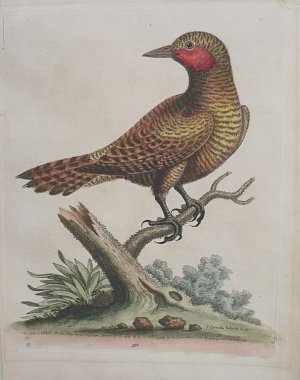 The Red-cheeked Woodpecker from Surinam drawn from life of its natural bigness, on the coronation day of George and Charlott Sept: 22: 1761"
George Edwards (1694-1773) was a British ornithologist and bird artist whose most famous work was published in two parts;
A Natural History of Uncommon Birds…
, London 1743-1751, and
Gleanings of Natural History
, London 1758-1764. It is a beautifully illustrated book in which Edwards presented his subjects in landscape backgrounds, an innovation at the time. According to the great authority Sitwell, "At its date of issue the Natural History and Gleanings was one of the most important of all Bird Books, both as a Fine Bird Book and a work of Ornithology. It is still high on each list." (Fine Bird Books) Like many other prominent natural historians of his time, Edwards had close ties with prominent scientists in Europe and North American and exchanged specimens and information with them. In A Natural History, Edwards included a few birds from the Carolinas provided to him by Mark Catesby, Pennsylvania birds that he learned about through William Bartram and Hudson River, birds that he came to know through Alexander Light and James Isham. The compositions are charming with wonderful landscape details and depictions of butterflies and insects. This engraving was drawn from life on the day of the coronation of George III of England.
11 3/8 x 9 ½ inches, sheet.
Etching and engraving with perfectly preserved original color.
Good condition save narrow margins and light mat stain. Nicely preserved original color.