Red Footed Falcon. The Birds of Europe London:1832-37. $350.00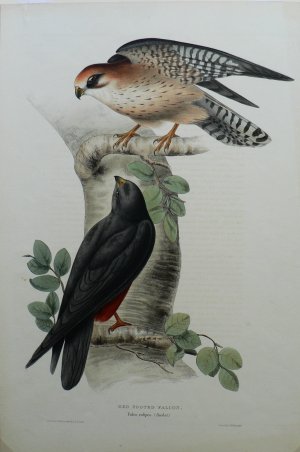 "Falco rufipes"

John Gould (1804-81) was the most prolific ornithological artist in nineteenth century Britain. He created thousands of orginal prints of birds. His great talent, renown and impact upon the science of natural history cause him to be referred to as "the British Audubon." Gould inherited his love of nature from his father who was a gardener on the royal estate at Windsor. At the age of 21, John Gould established his own taxidermy business, and two years later, he became the taxidermist for the Zoological Society of London. This position was vitally important to the success of the books Gould later published. He had the opportunity to handle and acquire specimens from all over the world and rapidly acquired the ability to display his subjects in remarkably lifelike poses. The monumental The Birds of Great Britain was Gould's last big project. It is often considered to be his best work. In it, he fully exploited the formula that he had developed in his earlier books in which each hand colored lithograph includes a male and female pair and the birds are shown full-size, in life-like positions with background elements such as habitat, nest, young, insects, etc. The depiction of birds was John Gould's passion. He worked on designs for his books until the very last days of his life.
14 x 21 inches, sheet.
Handcolored lithograph.
Excellent condition with light overall patina.
With accompanying text.