Pl. 721 (Messenger) Histoire Naturelle... Paris: 1770-1786. $450.00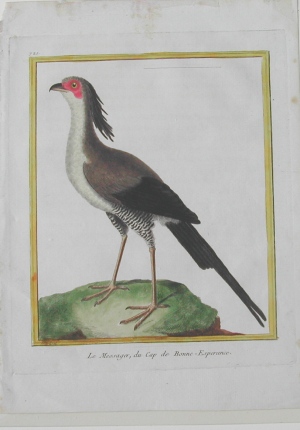 Le Messanger, du Cap de Bonne-Esperance

Francois Martinet was one of the foremost bird artists of 18th century France. He collaborated with Count Georges-Louis Leclerc du Buffon to produce these charming, brightly colored engravings of exotic and common birds that are highly valued by interior designers and by collectors. In Fine Bird Books, Sacheverell Sitwell notes that this book, Histoire Naturelle des Oiseaux , was certainly the most ambitious and comprehensive book which had appeared at the time of its publication, and ranks still as one of the most important of all bird books from the collector"s point of view." (Sitwell, p. 64) Martinet surrounded his images with a distinctive yellow border that some believe to be the predecessor of French matting.
10 x 8 inches, plate.
Hand colored copperplate engraving with full margins.
Excellent condition.