(Long Wattled Umbrella Bird) Nouveau recueil... Paris: F.G.Levault, 1820-39. $650.00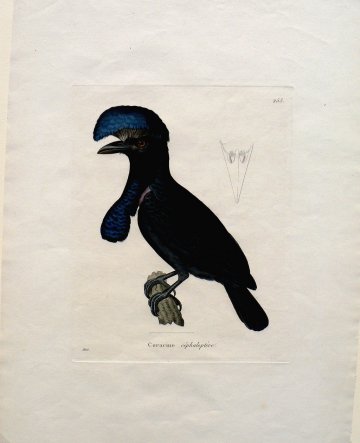 Pl. 255 "Coracine cephaloptere" or Long Wattled Umbrellabird.
N Huet, one of the best known ornithologists and natural history artists of the early nineteenth century, was one of the two artists selected to illustrate the magnificent work of 600 etched plates included in Nouveau recueil de planches coloriees d'oiseaux. The work is particularly highly valued for its stunning depictions of tropical birds. The species depicted here, most often found in the Amazon regions of South America is now known as Cephalopterus penduliger.
Hand colored etching,
20 x 13 ½ inches, sheet.
Excellent condition.