Erica Jasminiflora. Coloured Engravings of Healths. London, 1802-1830. $185.00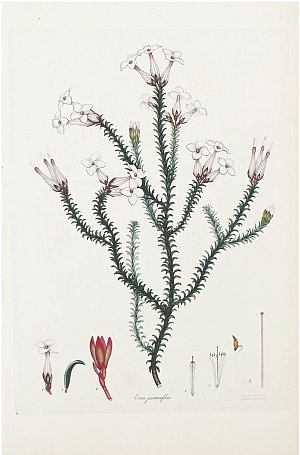 "Erica Jasminiflora"
Henry C. Andrews (fl. 1797-1828) was one of the few creators of botanical color plate works who enjoyed financial success. The sales of his first work, The Botanist's Repository, enabled him to be able to afford to publish the second. He published Coloured Engravings of Heaths… in response to the tremendous European popular interest in the varieties of heath being imported from South Africa. Andrews' designs are lovely and attentive to the details of the plants and their parts. His skillful engraving is enhanced by Andrews' use of green pigment in the printing and beautifully applied hand color.

Complete with accompanying text.
16 ¾ x 10 inches, sheet.
Excellent condition with light overall patina.