Karl Blossfeldt. Plate 113 (Cotoneaster, Syrian bean caper) Wundergarten der Natur. Berlin, 1932. $85.00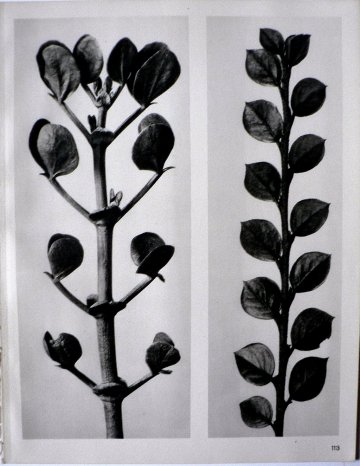 "Cotoneaster integerrima. Zygophyllum fabago"
Karl Blossfeldt (1865-1932) was a German artist and teacher best known for his close-up photographs of plants and organic forms. He built his own cameras which enabled him to record his subjects in horizontal and vertical orientations and in never-before-seen greatly magnified detail. While his primary goal was to create lasting works that would inspire his students at the College of Arts and Crafts in Berlin, he did seek a larger audience for his large format glass plate negatives. This proved to be an elusive goal until the end of his life when in 1928-1929 he published his first book of photogravures Urformen der kunst (Art Forms in Nature) which won him acclaim. In 1932, the last year of his life, he published, Wundergarten der Natur (Magic Garden of Nature) containing these prints. The abstract forms, textures and repetitive patterns found in the photogravures contained in these two works appealed to the Surrealists and caused Blossfeldt to be considered one of the defining Modernist and Art/Nouveau photographers of the twentieth century. The elegant, spare, sometimes architectural, images are especially striking in contemporary interiors.
11 ½ x 9 ¾ inches, overall.
Photogravure.