(Amaryllis) Priscilla Susan Bury. Crinum Pedunculatum London, 1831-34. $4,750.00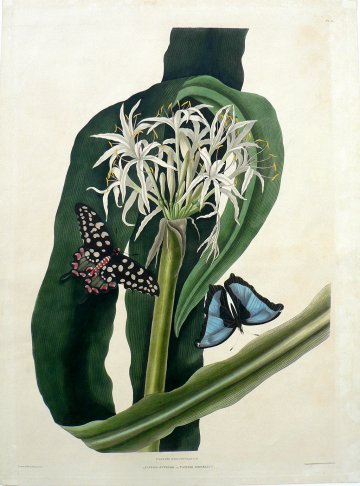 "Crinum Pedunculatum / Paplio Anternum/ Paplio Menelaus"
You'll see many of these striking, large amaryllis plants in well tended gardens in south Florida; particularly in Palm Beach.

Priscilla Susan Bury was born into a wealthy family whose large estate had a number of greenhouses. She had no formal artistic training, but like many well to do Victorian ladies, she had leisure time she could devote to botanical painting. Mrs. Bury honed her craft by constantly drawing flowers; especially lilies. By 1830, she had produced a collection of impressive drawings. The noted botanist, William Roscoe, was so impressed by Mrs. Bury's work that he encouraged her to publish a book based on her art. the result was the magnificent A Selection of Hexandrian Plants.

Mrs. Bury's fine drawings and keen observations were enhanced by the man she hired to be her engraver, Robert Havell, the same engraver John James Audubon selected for his renowned The Birds of America. Under Mrs. Bury's supervision, Havell produced 51 gorgeous engravings on over sized sheets of paper large enough to depict all of the images life-size. The resulting stunningly beautiful images are described by the acknowledged authority on botanical prints, Gordon Dunthorne, as "Finely coloured plates of perfect technique, very decorative and "modern" in feeling" (Dunthorne, #71) They are all that and more.

Only 79 copies of this engraving were printed, making it among the rarest of all antique botanicals.
This amaryllis is also known as the Swamp Lily, River Lily or Mangrove lily. It is found in stream and tidal area of the Australian continent. The butterflies are the Madagascar Giant Swallowtail and the Blue Morpho.
The Garden Club of American owns a complete set of the 50 engravings in this work. This image is featured in their recently published book celebrating their 100th year, Gardening by the Book.

Hand colored aquatinted engraving.
25 x 18 inches, sheet.
Excellent condition save very light transference affecting upper right.
Beautifully preserved original color.
Framed to museum specifications.