Matthaus Merian after De Bry. (Narcissus) Anthologia Meriana. Franckfurt & Leipzig, J.G. Fleischer, (1641) $300.00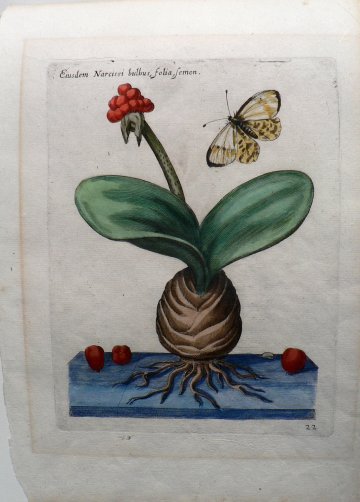 Pl. 22 "Eiusdem Narcissi bulbus, folia, femen."

Johann Theodor de Bry (1561-1623) was an etcher, engraver and publisher, eldest son and most prolific member of a notable family of printmaker-publishers. The de Brys lived in Frankfurt, then a center for the production and sale of illustrated books. De Bry produced his Florilegium novum in 1611, among the most famous flower books of the period, followed by Florilegium renovatum et auctum, an expanded version which he published in the 1640s with his son-in-law, Matthäus Merian.
Merian was a Swiss engraver who worked in various cities throughout France before he returned to Basel In 1616 he moved to Frankfurt to work for Theodor de Bry. Upon De Bry's death in 1623, Merian took over De Bry's publishing business and married his daughter, Maria Sybilla Merian.
12 1/2 x 8 3/8 inches, sheet.
Engraving with modern hand color.
Excellent condition save light mat mark well outside of image.