(Glorioso Lily) London: J. Ridgeway, 1816. $150.00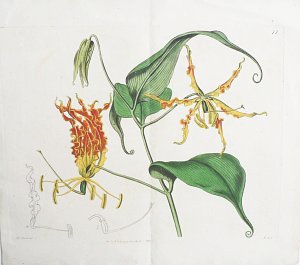 (Glorioso Lily)
Sydenham Edwards began sketching plants from nature as a young boy, growing up in Wales. His fine drawings brought him to the attention of William Curtis. The two worked together for many years on Curtis' influential Botanical Magazine. In fact, Edwards created over 1600 drawings for the publication. However, in 1815, the two men had a serious disagreement and, as a result, Edwards created a rival publication called The Botanical Register. The beautiful original prints in Edwards' periodical were as detailed, finely engraved and beautifully hand colored as those in Curtis' magazine. They were also very popular with 19th century audiences and the work continued to be published until 1847.
9 ½ x 11 inches, sheet.
Copperplate engraving with original hand coloring.
Very nice condition.