(Spruce) Silva... York: Alexander Hunter, 1786. $295.00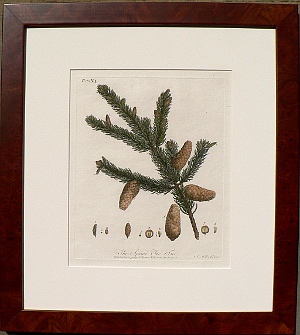 JP. 178. V.I. "The Spruce Fir Tree"
John Evelyn (1620-1796) was a prominent member of the Royal Society of London and an active member of the scientific community in the British Isles during the mid 17th century. His particular interests were horticulture and silviculture, the study of trees. This engraving was included in his best known work Silva: A Discourse of Forest -Trees... which encouraged landowners to plant trees in order to supply timber to build ships for England's expanding navy. John Miller was the artist and engraver of the beautiful engraved illustrations. The Discourse was first published in 1664. The work went into four editions during Evelyn's lifetime and was considered important enough to have also been published in four posthumous editions by Alexander Hunter. This engraving was included in Hunter's 1786 edition.

11 5/8 x 8 ¾ inches, sheet.
Copperplate engraving with expertly applied modern color.
Excellent condition.