(Fern) Native Flowers and Ferns... Boston: L. Prang 1878. $65.00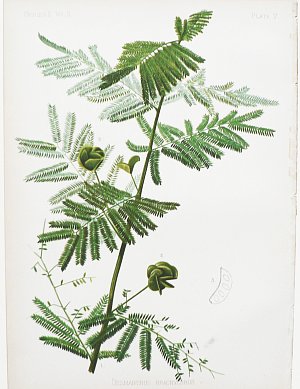 Desmanthus Brachylobus
Thomas Meehan (1826-1901) was born in London, England. His talents in the area of botany were apparent at a young age. He published his first paper when he was 12, created his first hybrid species, a fuchsia at the age of fifteen and was elected member of a professional society while still a teenager. He trained at Kew before moving to Germantown, Pennsylvania and was hired by the superintendent at Bartram's Garden. He subsequently, ran a nursery, became an active member of the Academy of Natural Sciences, authored an enormous number of articles and edited various periodicals including the Gardener's Monthly. Somehow, Meehan found the time to also be involved in Philadelphia politics. He was elected to the city council and used that position to forward the campaign to add Bartram's Garden to the city's system of parks.
This image is from Meehan's most well known publication, his highly decorative botanical book entitled Native Flowers & Ferns of the United States. It is the brilliant result of the collaboration of the skills of the leading authority on fern of North America and the leading American producer of chromolithographs, Louis Prang of Boston. The 192 plate work was published by Prang & Company between 1879 and 1881.
10 ¼ x 7 ¼ inches, sheet.
Chromolithograph.
Excellent condition with light overall patina.