(Orange and Purple striped tulips) Nederlandsche Bloemwerk. Amsterdam 1794. Framed $825.00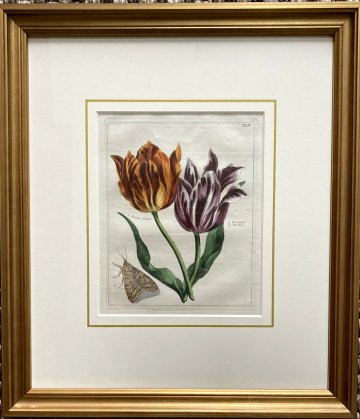 Plate XLIV Couronne de Berlin, Keizer Pieter

This Dutch engraving was included in an important and beautiful botanical work of only 53 hand-colored plates by H. L. Myling after Paul Theodor van Brussel (1754-1795) titled: Nederlandsche Bloemwerk door een Gezelschap Geleerden (Dutch Flower Arrangements), printed in Amsterdam in 1794 by Jan Barend Elwe.

These floral plates were a significant contribution to late 18th century botanical art, highlighting the superiority of Dutch horticulture. The botanical plates showcase wonderfully detailed illustrations of tulips, hyacinths and auriculas, many of them further adorned by insects. The text includes notes on breeding and distribution which was the most lucrative area of horticulture during much of the 18th century, and by the closing decades the Dutch were the acknowledged leaders in this field.
Each plate is charmingly engraved with original hand color. These botanical engravings are difficult to source in good condition. We are pleased to offer such a lovely grouping of the very best images of beloved flowers.
Reference: Blunt & Stearn The Art of Botanical Illustration (1994) p.190; Dunthorne 215; Hunt 733; Nissen BBI 2219.

Copperplate engraving on laid paper with full original hand color.
11 x 8.5 inches sheet, 15 x 13.5 inches outside framed.
Archivally framed with antique gold molding
Excellent condition.