Pierre Joseph Redoute. (Plums) Choix des Plus Belles Fleurs. Paris, 1827 $1,200.00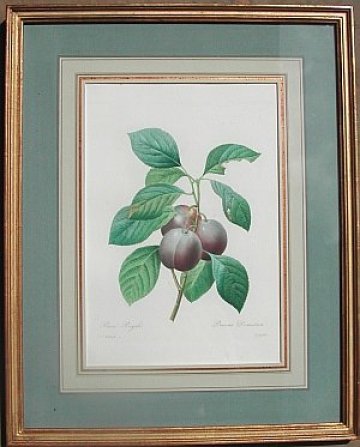 "Prune Royale"

Pierre-Joseph Redoute (1749-1841) is the most widely known and appreciated of the artists who produced antique botanical works; his celebrity spread by the almost 2,000 different engravings based upon his original watercolors. After completing his two masterpieces, Les Liliacees and Les Roses, Redoute created an anthology of his work. Choix des Plus Belles Fleurs…contains those images which the artist considered to be his very best. He selected beautiful flowers including roses, irises, amaryllises, tulips, etc and a smaller number of beautifully depicted fruit. The medium of stipple engraving permitted subtle differences in tone and shading whose effect was enhanced by a complicated coloring technique. Each of the images in the series possesses a luminosity, sheen and luminosity approaching that of the original watercolors on vellum.
Stipple engraving partially printed in color and finely finished by hand.
Framed in gold leaf moulding with hand painted mat.
19 ½ x 15 ½ inches, overall.
Excellent condition and color.