(Pomegranate) Traite des Arbres... Paris, 1801-1819. $500.00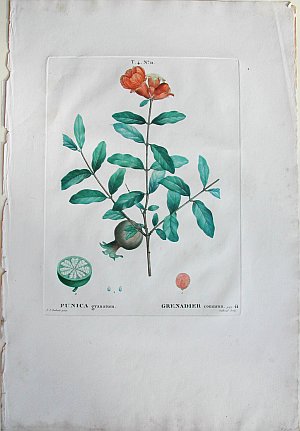 T. 4. No. 11 "Punica granatum/ Grenadier commun"
Pierre Joseph Redoute (1759-1840) is the best known flower painter of all time. This wonderful engraving was included in his early work, Traite Des Arbres et Arbustes que l'on cultive en France en pleine terre. As the title implies, this book depicts the trees and shrubs of France. It is frequently referred to as the "second Duhamel" as Redoute based it upon the work of his mentor, Louis Dehamel du Monceau, and dedicated it to him. Redoute completed this work shortly after the second of his royal patronesses, the Empress Josephine acquired her house and fabulous gardens at Malmaison.

13 x 20 ½ inches, sheet.
Stipple engraving printed in colored.|
Good condition with some light mottling and waterstaining on bottom edge of sheet.
Note that print has such a full sheet that the area connected to the binding has been preserved on the left side of the sheet.