Pl. 54. (Water Plant) Phytographie Medicale... Paris: Didot le Jeune, 1821. $115.00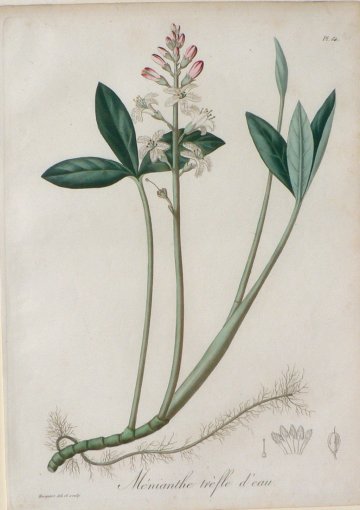 "Menianthe trefle d'eau"
A beautiful early 19th century engraving from the exceedingly rare, first edition of Joseph Roques' work Phytographie Medicale… or Phytographie Medicale, Decorated with Colored Figures in their Natural Sizes, Describing the History of Poisons from the Plant Kingdom, and the cures to their deleterious effects. The work was published in Paris in 1821 by Didot le Jeune.

Roques was a medical doctor who created this work dedicated to the study of poisons, remedies, and medicines. Phytographie Medicale focused on medicinal, poisonous, and narcotic plants. Each plate was printed in color and finished by hand by Edouard Hocquart, who participated in the creation of many of the finer early 19th century botanical works.
Stipple engravings partially printed in color and finished by hand.
11 ¼ x 8 ¼ inches, sheet.
Very nice condition but with some browning of margins.