N. 452 (Dianthus) Phytanthoza Iconographia Regensberg:1737-45 $525.00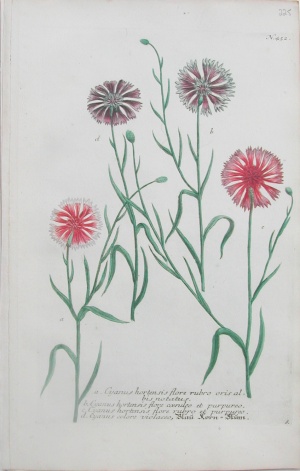 "Cyanus Hortensis, et al..."
Johann Weinmann, a prominent apothecary in Regensberg, produced 1,026 engravings for his famous comprehensive floralegia depicting plants, trees, fruit, flowers, herbs, nuts vegetables and succulents. The images were based upon the plants that he cultivated in his own garden and upon the watercolors of Georg Ehret and a talented young female artist by the name of N. Asamin. Weinmann's unusual use of the combination of mezzotint, line engraving, color printing and hand coloring resulted in the creation of rich textures and subtle shading.
15 x 10 inches, sheet.
Mixed engraving and coloring techniques.
Excellent condition with well preserved original coloring.