(Chess) London: Thomas McLean, 1835. $175.00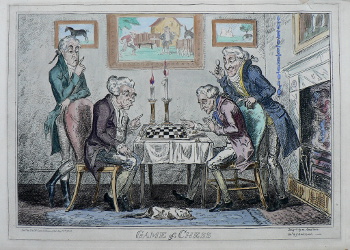 "The Game of Chess"
Another wonderful cartoon by Cruikshank this one showing four upper class men in a country house drawing room leaning over a chess board. The two seated mean are playing the game with two other men peering over their shoulders scrutinizing their moves.
11 x 16 ¾ inches, sheet.
Hand colored engraving.
Good condition save small loss in upper right corner.