SEM. The Pianist. Paris, ca. 1901. SOLD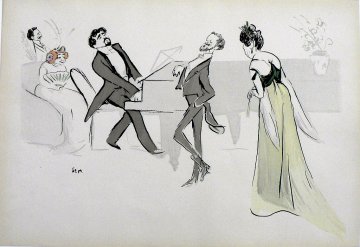 Georges Goursat (1863 – 1934) was a French caricaturist known as "Sem." In 1888 Goursat self-published three albums of caricatures, signing them "SEM."

A charming and talented man, Goursat was working in Paris at the time of the opening of the Universal Exposition in 1900 where the Art Nouveau style in architecture and decoration was hugely popular. His inspiration came from observing French high society enjoying life at restaurants, at the opera and at the races. Just three months after his arrival to Paris he self-published an album titled "Le Turf" with caricatures of many prominent Parisians. The success of this album made him famous.

Goursat supported himself selling humorous and serious illustrations to French periodicals. He put together albums of caricatures depicting high society in Monte Carlo, Deauville, the Cote d'Azur, and Paris. He wrote articles and created posters illustrating the tourist towns of Deauville, Cannes and Monte Carlo. His art is particularly associated with the Belle Epoque and his unique style of drawing brought him great success and fame.

The printing method Goursat used is called pochoir. It was a technique of creating prints by applying color and line with cutout stencils. Some pochoir prints utilized as many as thirty stencils for a single image.
SEM produced very few images of musicians and musical performances.

Pochoir print
Single folio 14 x 20 inches sheet size.
Very good condition