Antioch College. Gleason's Drawing Room Companion, Boston, 1851. $105.00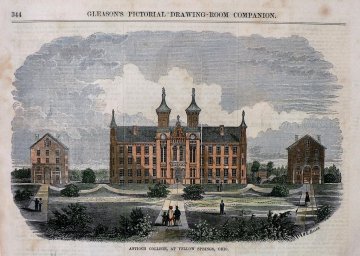 "Antioch College, at Yellow Springs, Ohio"
Antioch College is a private coeducational liberal arts college founded in 1850 by the Christian Connection. Its first president was Horace Mann. It closed for three years reopening in 2011 fully independent from the university. It is known for a featuring a cooperative education work program that is mandatory for all students. It is considered by some to be one of the top non-traditional colleges. The campus is located on the site of a short-lived Owenite (utopian socialist) community. This wood engraving shows the distinctive towers of the main building.
8 x 10 ¾ inches, sheet.
Hand colored wood engraving.