(Howard University, Washington D.C.) Harper's Weekly. March 1869. $65.00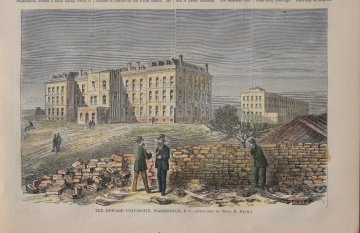 "The Howard University, Washington D.C."
Wonderful piece of Howard University history. This wood engraving was printed in the March 20, 1869 issue of Harper's Weekly Illustrated Newspaper. The illustration describes the problem in constructing public buildings. A cautionary tale indeed. It seems that a new type of composite block for building was developed, advertised as being indestructible, beautiful in its color and texture and desirable for its reasonable price. General Howard organized a group of investors and purchased the patent rights to this material to build the edifice of the new Howard University for the education of "colored children." The new building blocks did not live up to their hype as they began to crumble almost as soon as they were laid. This original wood engraving shows a pile of these bricks in the foreground.
Hand colored wood engraving.
7 x 10 1/2 inches image size.
Excellent condition.