(College Hall) Ernest David Roth. Etchings of the University of Pennsylvania. Philadelphia 1929. Sold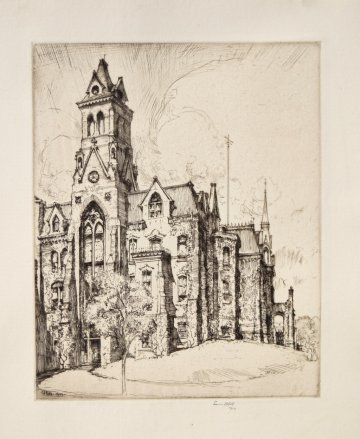 "College Hall"
Atmospheric and evocative, this wonderful early 20th century etching of College Hall at the University of Pennsylvania is one of just six etchings of the University drawn by Ernest David Roth (1879-1964) in 1929 and issued loose in a portfolio. Surprisingly, there are very few original antique engravings/etchings of this wonderful urban campus with its bounty of glorious collegiate Gothic style buildings. A sharp and clean impression, beautifully drawn and detailed. The perfect gift for the student or alumni.
14 x 11" etching.
Signed in plate, pencil signed and dated lower right margin.
Excellent original condition.