(Franklin Field) Ernest David Roth. Etchings of the University of Pennsylvania. Philadelphia 1929. $395.00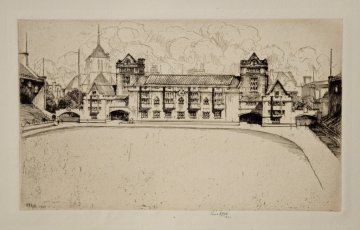 "Franklin Field"
Atmospheric and evocative, this wonderful early 20th century etching of Franklin Field at the University of Pennsylvania is one of just six etchings of the University by Ernest David Roth (1879-1964), issued loose in a portfolio in 1929. Surprisingly, there are very few original antique engravings/etchings of this wonderful urban campus.
If you were, or are, a collegiate athlete, you have heard of or played in the famed University of Pennsylvania Franklin Field. Considered the oldest collegiate football stadium still operating, the venue was the site of the nation's first scoreboard (1895), the nation's first stadium with an upper deck of seats (1922), was the site of the first radio broadcast of a football game (1922), as well as the first televised broadcast of a football game. The Franklin field was home of the Philadelphia Eagles from 1958 – 1970, the Penn Relays and the University of Pennsylvania Graduation ceremonies. Rah Rah Pennsylvania!
11 x 14" etching
Signed in plate, pencil signed and dated lower right margin.
Excellent original condition.