(University of the Arts) J. and F. Tallis. History and Topography of the United States. London, 1830-32. $145.00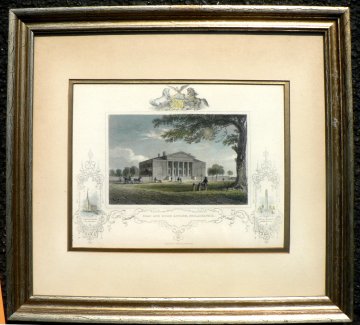 This view shows the elegant building designed by John Haviland, one of the leading American architects of the early 19th century for the Deaf and Dumb Asylum. The building at Broad and Pine Streets is currently in the very center of center city Philadelphia, but at the time that it was built in the 1820s, it was a rural location. Inhabitants of the city would visit it for respite from the dirt and noise of the downtown. This beautiful structure is now known as Dorrance Hamilton Hall, part of The University of the Arts.
A vignette of the Floating church of Philadelphia is included at the lower left.
Hand colored engraving.
Framed to 13 1/8 x 14 5/16 inches, overall.