after Adolphe Deveria. Costume Francais. Paris: Goupil et Vibert, ca. 1840. $250.00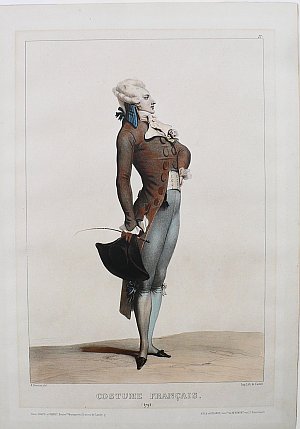 "Costume Francais (1792)"

This handsome French gentleman is outfitted in the finest of late 18th century clothing including a tricorner hat, ribboned stockings, coiffed wig, long toed pointed shoes, and gold hoop earring. The buttons on his coat are pulled tight by the swagger of his confident posture. Some might describe him as a dandy but the words that seem most appropriate are French ones; verve, panasche and elan.

Adolphe Goupil was the founding member of the Goupil family of publishers who are well known for their remarkably high quality lithographs and beautiful hand coloring. The earliest prints were created in Paris but demand was so high that the the company expanded into offices throughout Europe and even became the first permanent American branch of a European company in New York.

Finely hand colored lithograph.
17 1/4 x 12 1/4 inches, sheet.
Very good condition save light mat staining.
Beautifully preserved original coloring.