(Little Jumbo) Philadelphia Sunday Press. Poster. Philadelphia, 1896. $300.00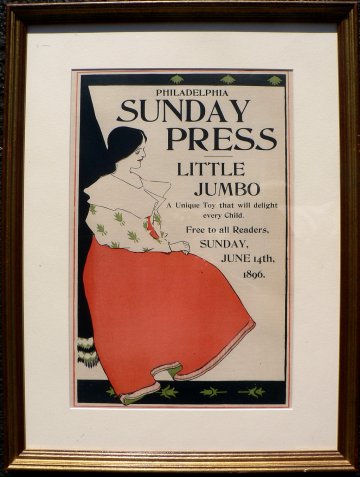 For lovers of Illustration and Ephemera
A wonderful graphically strong and appealing broadside advertisement included in the Sunday, June 14th, 1896 issue of the Philadelphia Sunday Press. The paper offered "Little Jumbo A Unique Toy that will delight every Child Free to all Readers" as an enticement to purchase the paper. The image is that of a seated woman dressed in a white blouse and a full skirt of a vibrant red. The toy is not pictured. Might this be an additional marketing ploy to keep the image of the toy a surprise?
Excellent condition with barely visible fold at center as issued.
Color pouchoir print.
Framed to 27 ¼ x 20 ½ inches, overall.
Small dings in frame at bottom.