(Le Salon) La Teinture Francaise. Paris: G. Mathiere, c. 1880. $450.00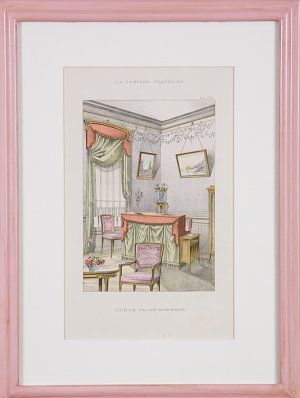 "Coin de Salon Moderne"

The perfect addition to a ladies dressing room.
A beautiful colored lithograph from La Teinture Francaise, an important and decorative work on curtains, furnishings, accessories and interior design. This image shows a corner of the salon (what Americans might call the living room.) In it we see the use of luxurious fabrics, painted decoration on walls and paintings hung high on wires suspended on picture wire. The curtain design is quite elaborate.

Colored lithograph.
Framed to museum specifications with hand painted antiqued frame and fabric wrapped mat.
Excellent condition.
20 1/2 x 15 1/4 inches, overall.