(the month of) May. London: Robert Sayer and Carington Bowles, 1787. $695.00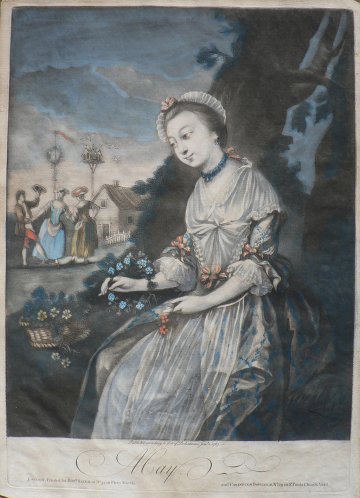 May
This genre print is a fine example of a type of mezzotint engraving that was very popular in the last half of the eighteenth century. These works provide valuable and fascinating glimpses into the daily life of gentlewomen, their clothing and their activities. Many found their way to the American colonies where they would have influenced upper class behavior.
The lady is seated outdoors wearing clothing appropriate to the spring season. She holds a wreath of flowers, a necklace of flowers is tied around her neck and a posy adorns her lace cap. In the background, two women and a man gaily dance around a maypole set in the yard of a charming country cottage. The artist depicted in lovely detail the style of her dress, its draping, patterns of the fabric, the lace of her cuffs and their decorative ribbons and her cap.
Robert Sayer and Carrington Bowles were leading publishers and sellers of prints, maps and books in Georgian England. Their work is noted for the high quality of the engraving and hand coloring. Note: That since spelling was not consistent during this period, the printer's name is recorded as Carington Bowles on the bottom right.
Mezzotinted engraving with hand color.
14 ½ x 10 ½ inches, sheet.
Excellent condition with margins save a few tiny thin spots visible only by holding the print to the light.