F.A. Gunther. (woman's shoe) Shoemaker's Periodical. Berlin, 1898-1901. $175.00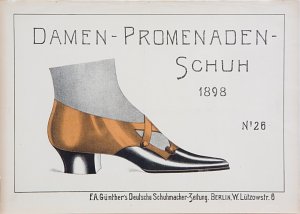 "Damen - Promenaden-Schuh"

A striking image of a woman's walking shoe from F.A. Gunther's Shoemaker's Periodical which contained colored lithographs of some of the latest fashions in footwear then produced in Berlin. the perfect accent piece for a personal dressing room or an upscale clothing store.
Chromolithograph.
10 1/2 x 15 inches, sheet.
Excellent condition.