The Stays. London: H. G. Bohn, c. 1850. $250.00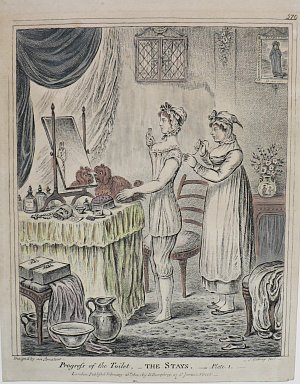 "Progress of the Toilet. - THE STAYS - Plate 1"
James Gillray (1756-1815) was a British engraver whose illustrations provide some of the best known and most humorous commentaries on the politics and social morays of his time. He began his career as a letter engraver but later became a student at the Royal Academy where he perfected his skills under the direction of instructors such as Francesco Bartolozzi. He had a close business and personal relationship with the Humphreys, a London publishing family. The popularity of Gillray's prints propelled the Humphreys to become the leading print sellers of London. Copperplates were usually melted down and reused but the plates that Gillray had engraved remained in the hands of the Humphreys family. This was probably a response to continuing popular interest in them. In fact, this print was included in H.G. Bohn's republication of the original plates, between 1847 and 1851, decades after Gillray's death. Bohn's book contained the "suppressed plates" which were deemed too graphic for the delicate sensibilities of women. Depictions such as this one from the series "Progress of the Toilet" was included in that group.
11 ¾ x 9 inches, sheet.
Hand colored engraving.
Very good condition.