Mahogany Tabernacle Mirror. Early 19th century, American. $350.00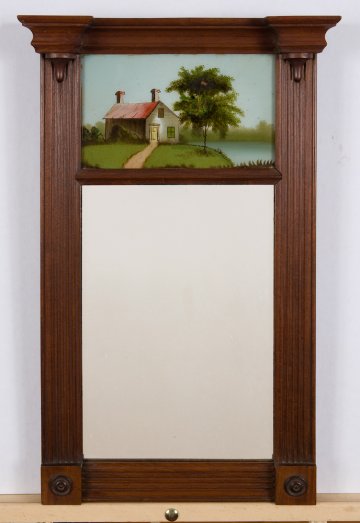 Mahogany Tabernacle Mirror
Early 19th Century Sheraton Mahogany Tabernacle Mirror with flat molded cornice with projecting breaks at corners. The front of the sides and the bottom of the frame are faced with fluting, the bottom corners of the frame have square corner blocks with small round applied wooden medallions. The top of the frame is fitted with a horizontal frieze containing a reverse painting on glass of a scenic view of a white house with yellow door and red roof standing on the bank of a body of water. The frame is fitted with a replacement vertical oblong mirror.
Overall dimensions, 13 7/8 x 22 15/16 inches.
Excellent refinished condition.