(A Breach of Promise) Sadler, W. Dendy Sadler. London: J.H. Lefevre, 1915. $150.00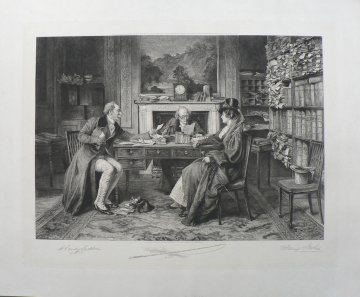 "A Breach of Promise"
Walter Dendy Sadler (1854-1923) was a British artist known for his etching of British genre scenes. His prints are highly valued for their meticulous record of details of dress, furniture design and decorative arts. The environment of the figures is also always very detailed and their faces are carefully drawn to help tell the story of their situation. Sadler exhibited at the Royal Academy from 1873 until the 1890's.
A well-to-do couple sit at either end of a lawyer's desk while he reviews the documents put before him. The male client presents a document to the attorney, The woman appears to be lost in thought during the proceedings. The lawyer's elegantly appointed office is filled with records.
Etching.
20 x 24 1/2 inches, sheet.
Signed i pencil by the artist and Jamie Dobie, the etcher,
Pencil remarqued with buggy whip.