(The Chew House) The Battle of Germantown. Philadelphia: J.M. Butler, ca. 1860. $105.00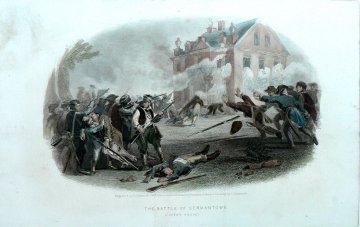 "The Battle of Germantown (Chew's House)"
A highly detailed engraving based upon a dynamic and dramatic painting by the American history painter, G. Schuessele.
After the Battle of Brandywine, the British captured Philadelphia. The British general Howe encamped his troops in the north of the city at Germantown. On October 4, 1777 the American Continental Army under General Washington fought the British and Hessian forces in and around the substantial house owned by Justice Chew. It is a battle that is reenacted at the Chew house every year.
Steel engraving with hand coloring.
6 1/4 x 9 1/2 inches, sheet.
Good condition save some evidence of handling.