(Sherman and Grant) Council of War. Philadelphia, William Sartain, 1865. $495.00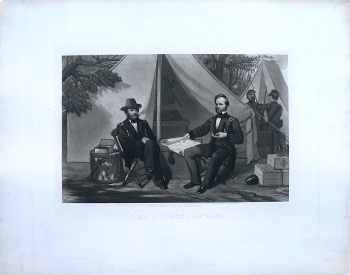 "The Council of War"
A handsome mezzotinted depiction of Generals Grant and Sherman meeting on the battlefield to discuss their next course of action. They sit in folding camp chairs before the opening of a tent. Both are enjoying cigars that they have obtained from the box sitting on top of a military drum. Sherman points his finger to a place on the map beside him. The realistic detail of the scene and the lifelikeness of the faces of the generals indicates that the engraving was most likely was mostly likely based upon an ambrotype
William Sartain (1843-1924) engraved and published this engraving. He, along with his father John, was the foremost American practitioner of the mezzotint technique creating beautifully shaded and textured engravings of historical subjects. Sartain went to high school with Thomas Eakins and studied at the Pennsylvania Academy of the Fine Arts. His work is in the collections of the ennsylvania Academy of the Fine Arts, Philadelphia Museum of Art, Brooklyn Museum, U.S. Capitol, and National Museum of American Art.

15 x 19 inches, sheet.
Mezzotint.
Image to plate mark in excellent condition. Minor evidence of handling on extremities.