after Waugh. Lincoln and His Family. Philadelphia: Sartain, 1866$950.00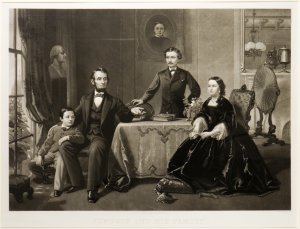 "Lincoln and His Family"
A mezzotint engraving taken from the painting by Samuel B. Waugh and engraved by the able William Sartain, a member of the renowned Philadelphia family of mid 19th century engravers. This engraving was issued in 1866 the year after Lincoln was assassinated. He is shown in the White House with his wife Mary Todd and two sons, Tad to Lincoln's left and Robert in the center, while William, who had died, is seen in the portrait hanging on the wall. With a bust of George Washington (the Father of the Nation), the completed Capital dome seen through the window (an accomplishment during Lincoln's tenure as president), and the Bible on the draped table, this engraving is full of significant iconography. A superb and desirable example of American historical engraving.
Mezzotint with engraving,
22 x 28 inches, sheet.
Excellent original condition.