Naylor, Sir George. (The Kings Herbwoman…) Coronation of George IV. London 1824. $895.00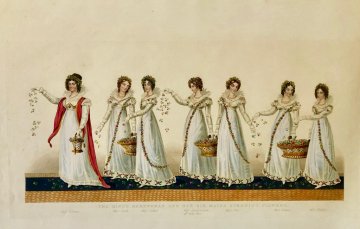 "The Kings Herbwoman and Her Six Maids Strewing Flowers
Miss Fellows, Miss Garth, Miss Collier, Miss Ramsbottom, Miss Hill, Miss Daniel, Miss Walker
19 July 1821"
A magnificent record of the pageantry invoked in the coronation of a royal monarch. Sir George Naylor (1764-1831) was commissioned to create a book documenting the elaborate coronation of George IV in 1820. The book was titled: The Coronation of His Most Sacred Majesty King George the Fourth: solemnized in the collegiate church of Saint Perter, Westminster, upon the nineteenth day of July MDCCCXXI. And was "completed under direction of the publisher with the assistance of Sir William Woods and Charles George Young," between 1824-27. The large oblong folio book was intended to be issued in 5 parts, but only two appeared in Naylor's lifetime (in 1823 and in 1827). Henry Bohn acquired the copperplates and copyright in 1837 and eventually issued the work with 45 plates including the frontispiece.
George IV ruled as King of the United Kingdom of Great Britain and Ireland and King of Hanover from the death of his father in 1820 until his own death ten years later. His monarchy was tainted by scandals and financial extravagance, as well as his selfish, unreliable and irresponsible behaviors. His coronation was magnificent and Naylor has captured all of the pageantry and portraits of the distinguished persons who composed the splendid procession, in their respective dresses, richly colored.
This wonderful engraving of the "Kings Herbswoman" depicts Miss Fellows and her maids dispensing flowers along the Royal carpet on the way into Westminster.

Stipple and aquatint engraving with full original hand color.
22 1/4 x 16 3/4 inches sheet
Slight toning to paper and some small chips to edges of paper, otherwise excellent condition.