Montague, H. Irving. (French soldier) Watercolor on paper. c. 1870.$395.00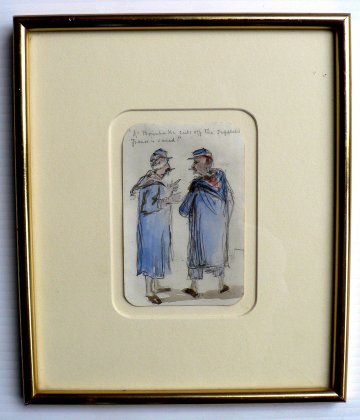 "If Bourbaki cuts off the supplies France is saved."
Charles Denis Sauter Bourbaki (1816-1897) began a distinguished military career with an education at the Prytanee National Militaire. He held important posts under Louis Philippe and Napoleon III. In the Crimean War he commanded a portion of the Algerian Troops and we believe that the subject of this watercolor corresponds to that service.
The artist H. Irving Montague was a figure painter who exhibited in London and Birmingham between 1880 and 1893.
Watercolor and pencil on card measuring 4 5/8 x 2 7/8 inches.
Framed to museum specifications to 9 ½ x 8 inches overall.
Excellent condition.