Levachez after Boilly, 1803. (Napoleon Bonaparte). Paris 1800. $595.00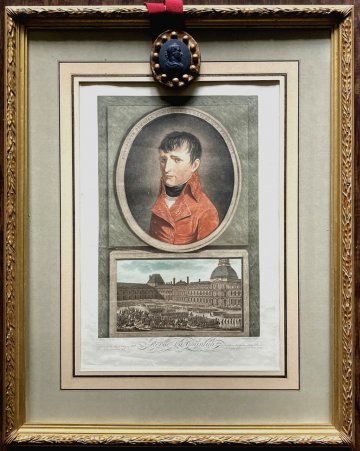 "Bonaparte, premier consul de la Republique Française -- revue du quintidi"
Early hand colored aquatint engraving depicting a bust portrait of a very young and very handsome Napoleon Bonaparte, facing left, above a lively scene describing troop review below. The engraving was printed on watermarked Van Gelder laid paper, and is framed in a acanthus leaf gold carved frame, French wash matting and unusual medallion of Bonaparte in profile attached to reverse of frame with ribbon.
A copy can be seen in the Library of Congress. Wonderful piece for the history enthusiast!
Aquatint engraving with full original hand color.
Sheet 17 ¾ x 12.5 inches sheet, 23 ¼ x 18 5/8 inches outside frame.
Very good condition. One small chip on left outside margin edge outside of plate mark and hidden beneath matting. Scratch center left image.