The Great Fires In Chicago and the West. Chicago: Goodspeed, 1871. $150.00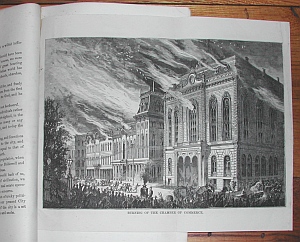 (Goodspeed, Edgar J., Rev.)
The Great Fires in Chicago and the West. History and Incidents, Losses and Suffering, Benevolence of the Nations, Etc., Etc. By A Chigao Clergyman.
Chicago, (1871)
118 pages plus 2 folding plates.
Original printed wrappers.
Good condition but lacking map noted on the front wrap and tilepage.
A fascinating historical record for fire buffs and those interested in Chicago history. The book is divided into two chapters, "History of the Great Fire in Chicago" and "Great Fires of the Past." Illustrated with two folding views entitled 'Burning of the Chamber of Commerce' and 'Burning of the Crosby Opera House.' These small views 8 1/2 x 9 1/2 inches are suitable for framing.