(Battle of Resaca de la Palma) New York: J. Baillie, 1846.$195.00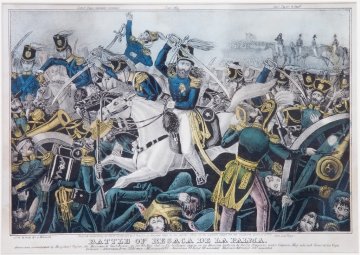 "Battle of Resaca de la Palma. Americans commanded by Brig. Gen, Taylor, the Mexicans by Gen.l Arista; on the 9th May 1896. The brilliant charge on the Mexican batteries by the US Dragoons, under Captain May, who took General La Vega prisoner. – American Army 3000 men – Mexicans 6000 – Americans 43 killed 113 wounded – Mexicans 400 killed – 600 wounded."
A war initiated by the United States with Mexico occurred between the spring of 1846 and the fall of 1847. The highly controversial war ended in victory for the United States. The 1848 Treaty of Guadalupe Hidalgo forced the Mexican cession of the territories of Alta California and Santa Fe de Nuevo Mexico to the US in exchange for $15 million and recognized Texas as independent. Lithographic publishers produced prints showing the course of the war for a public eager for the news.
The full title tells the story. Captain May, Lieutenant Inges mortally wounded, Gen.'l Taylor and Gen. La Vaga identified in the print in the upper and lower margins. The scene captures the chaos of the battle with wide eyed horse jumping over fallen soldiers, Lieutenant Ingres dropping his sword as he falls backward off of his horse to his death and swords clashing.
Hand colored lithograph.
Approximately 10 ½ x 13 inches, sheet.