(Pennsylvania) Philadelphia: O.W. Gray, 1877. $250.00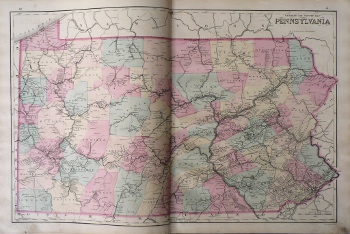 "Railroad and County Map PENNSYLVANIA"
Complied and drawn by F.A. Gray, this decorative and highly readable map of the state contains an amazing amount of information concerning the railroad lines - large and small - including in the eastern portion of the state, from east to west, Chester Co. RR, Philadelphia & Baltimore Central RR, Reading R.R., P.C.& N RR, Tony Creek RR, Flemington RR, Columbia and Port Deposit RR, Reading and Columbia RR, E. Penn RR, North Pennsylvanaia RR, Lehigh and Susquehanna RR, Lehigh and Lachawanna RR, Schuylkill Rr, Delaware, Lachawanna & Western RR, Delaware and Hudson RR, Pennsylvania Coal Co. RR, Jefferson Bridge RR, Pennsylvania RR, etc., etc.and canals. T
The perfect map of the state for the railroad enthusiast or collector!
17 x 26 inches, sheet,
Handcolored lithograph.
Excellent condition save minor smudge in lower right corner of margin.