(Washington) Washington, DC: Foster and Reynolds, 1915. $395.00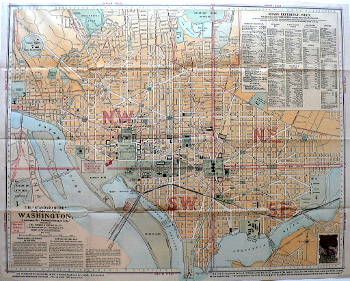 "The Standard Guide Reaady Reference Map of Washington"

An attractive and clearly legible detailed plan of the city from the United States Naval Observatory and Arlington National Cemetery on the west , north to the Zoological Gardens and Soldier's Home Grounds", and south to the Anacostia River. The upper right corner has a "ready reference Index."
The bottom of the map states that "We consider the Standard Guide Map of Washington the best and handsomest city map we have ever made."
Lithograph
19 x 24 inches, sheet.
Excellent condition.
Folds as issued.