(Pennsylvania, New Jersey, Delaware, Maryland) S. Augustus Mitchell. Philadelphia 1860.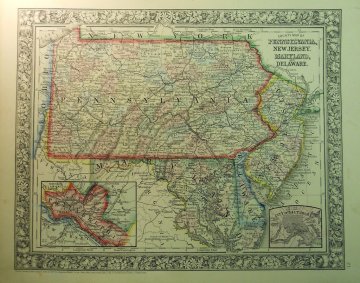 "County Map of Pennsylvania, New Jersey, Maryland and Delaware"
Terrific S. August Mitchell map from the 1860 edition of his atlas with the characteristic garland border. Insets of the City of Philadelphia and the City of Baltimore. Fine original hand color. Great addition to your library wall!
Lithograph with original color.12 1/2 x 15 1/4 inches sheet.
Excellent condition.