(Pennsylvania) H.C. Carey & Isaac Lea. Philadelphia 1822. $425.00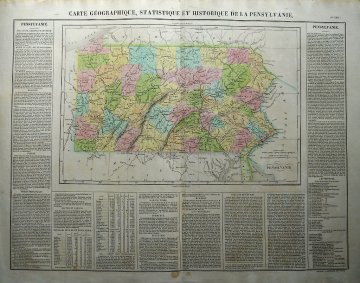 "Carte Geographique, Statistique et Historique de la Pensylvanie"

Wonderful large format map of the state of Pennsylvania from Henry Charles Carey and Isaac Lea's important American Atlas published in Philadelphia in 1822. These "Carey and Lea" maps as they are known, are highly prized not only for their comprehensive cartographical information, but for the text that brackets each map offering detailed description of each state, territory, or area. The atlas was so popular that it was issued in six editions in English, French and German between 1822 and 1827. This beautifully engraved early map of the State of Pennsylvania shows all counties delineated in hand applied color, rivers and mountain ridges names, important cities and towns identified. A wonderfully decorative early reference of William Penn's grand experiment.

Copperplate engraving with full original hand color.
21 x 26 1/2 inches sheet size.
Excellent condition.