Mathew Carey. (New Jersey) Philadelphia: Mathew Carey, 1814. $950.00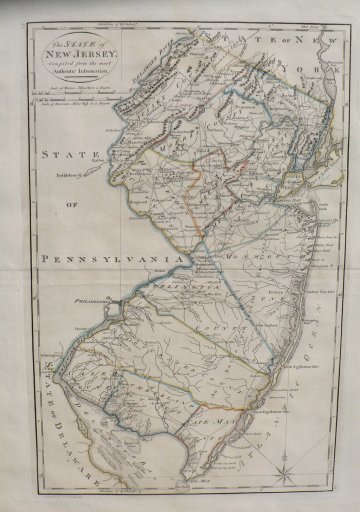 "The State of New Jersey compiled from the most Authentic Information"
This very pretty large map of New Jersey was included in one of the earliest and most famous atlases to be published in America. It is from the 3rd edition of Carey's American atlas. The information was "compiled by Samuel Lewis." It includes the easternmost portions of Pennsylvania stretching west of the Delaware River including the towns of New Castle, Chester, Philadelphia, Bristol, Easton and Bethlehem but New Jersey is the focus. It includes excellent delineations of Cape May, Little Egg Harbor, the Raritan Bay on the east, Salem, Woodbury, Princeton, Hopewell and Sussex County on the west. Towns, rivers, mountain ranges and roads are marked in pleasing and easily legible engraving. Country divisions are marked with original outline coloring. The state is divided into East and West Jersey. The vast pinelands are identified as "An Extensive Forest of Pine Trees." The clear and detailed delineation of the New Jersey coast allows for good comparison of details of the Atlantic coastline at the beginning of the 19th century and as it appears today.
21 ¼ x 16 ¾ inches.
Engraving with original outline coloring.
Excellent condition.