S. Augustus Mitchell. (Pennsylvania). New General Atlas. Philadelphia 1865. $195.00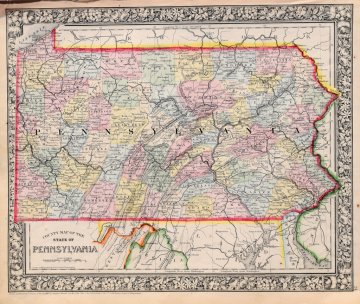 "County Map of the State of Pennsylvania"
A detailed and beautifully hand colored original antique lithographed map of the State of Pennsylvania with topographical detail and place names clearly legible. The map was included in Samuel Augustus Mitchell's, New General Atlas Containing Maps of the World, Plans of Cities etc. The whole is surrounded by Mitchell's signature decorative border.
Hand colored lithograph.
12.5 x 15 inches, sheet.
Excellent condition.