New Jersey, Long Island Sound. Washington: Norris Peters ca. 1902. $250.00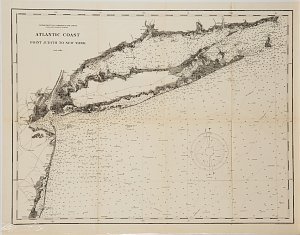 "Atlantic Coast Point Judith to New York"

A coast and geodetic survey that would make the perfect gift for the sailor on your list.

The area depicted extends south from Manahawken and Barnegat Inlet to New York Bay and extends up the south and north shores of Long Island to Block Island and from West Chester, New Rochelle and Mamaronack past New Haven, the mouth of the Connecticut River to Watch Hill and Westerly Rhode Island. Depths, soundings, bell signals, channel markers, etc. are shown in detail.

22 x 28 inches, sheet.
Lithograph.
Excellent condition.